The reliable performer for onsite photo operations
The DS620 is to take over as the new flagship model in DNP's printer line-up. With the new key features of enhanced durability, cost effectiveness and innovativeness, it sets the right tone to become a bestseller. Further, with its compact and well-designed body it is attractive for kiosk integrators and photo retail alike.
The printer is prepared for the daily tough assignment in your business. DNP Photo Imaging Europe offers an enhanced warranty included for you, featuring 2 years standard warranty and up to 100,000 prints* on the thermal print head. Innovative new media exclusively prepared for the DS620 together with the durable printer design enable an increased lifespan, even compared to other DNP models. The new DS620 allows you to offer even more photo formats, including the popular square format 15x15cm. The rewind function allows you to offer multiple formats from the same media (e.g. 15×20 and 15×10, and even photo strips in 5x15cm), allowing you to benefit from cost savings and a reduction of media stock keeping units.
Last not least, the standby mode reduces your power consumption to a minimum (<0.5W) when the printer is not in operation. When you need it again, the DS620 is back in action within just 9 seconds. Useful printer information is available directly from the printer driver. The DS620, a reliable performer!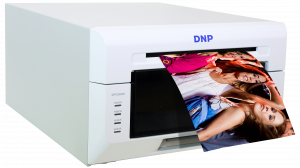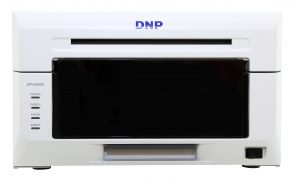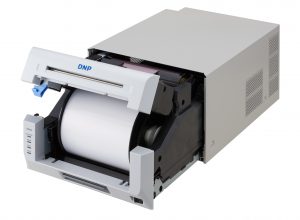 6 – INCH PHOTO PRINTER
Model:
DNP DS620
Dimensions (WxDxH):
275 x 366 x 170 mm
Weight (approx.):
12 Kg excl. Media & Accessories
Print technology:
Dye sublimation
Resolution (dpi):
300 x 300 (High speed mode)
300 x 600 (High quality mode)
Finishing options:
Glossy / Matte
Ribbon finish:
YMC + overcoat
Paper feeding:
Roll paper (coreless)
Media loading:
Front loading
Power consumption:
Stanby 0.14A (240V, 50/60Hz)
Printing 1.6A (240V, 50/60HZ)
Printer drivers:
Win. Vista, Win. 7, Win. 8, Win. XP
Mac OS x 10.9.5, 10.10 and 10.11
Print sizes:
2×6 inch 51×152 mm
3.5×5 inch 89×127 mm
4×6 inch 101×152 mm
5×7 inch 127×178 mm
6×8 inch 152×203 mm
6×9 inch 152×229 mm
Print speed:
4×6 inch 101×152 mm 8.4 sec.
Glossy 300×300 dpi per page
6×8 inch 152×203 mm 15.6 sec.
Print capacity per hour:
400 prints per hour